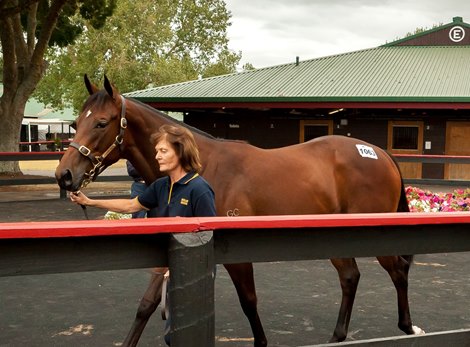 Strong Book 2 Karaka Session topped by Tivaci Filly
On March 9, the last day of Book 1 of the New Zealand Bloodstock National Yearling Sale, Roger James and Robert Wellwood went for an unprecedented NZ$900,000 (US$615,146) to land a colt (lot 508) by The autumn sun, a yearling who was in the eyes of the training duo the young star of the sale. On Saturday the pair returned to the pit on the final day of Book 2 to walk away with the best of the session, a filly (lot 1063) by a popular stallion Tivaci for NZ$250,000 ($170,874).
The filly marked a strong end to Book 2 of this year's sale, with three of the top five lots having been sold in yesterday's final session, to propel the set past the year's figure last, despite a slow start on the first and second days.
The total of NZ$10,036,000 ($6,859,566) is NZ$1,183,000 ($808,576) more than a year ago, when it also topped the 2020 gross before COVID-19 of NZ$9,873,500 ($6,748,498). NZ$41,759 last year ($28,542), but again surpassed the 2020 mark of NZ$25,000 ($17,087). Book 2's liquidation rate was 64% at the end of the last trading day yesterday.
"There was no way to hide the fact that it was a slow start on the first day of Book 2, but it just got better and better and today was actually very dynamic," said the GM of New Zealand Bloodstock, Andrew Seabrook.
"This year we sold 22 horses for over NZ$100,000 ($68,349), compared to just 15 last year, showing that the top of the market is stronger than it has been. ever been.I want to thank our sellers for their confidence in us with their quality blood and our buyers, both domestic and international, whether local or bidding from afar, we value your business and wish you the best on your new purchases."
Sign up for BloodHorse Daily
Listed as lot 1063, James and Wellwood, along with agents Andrew Williams and Bevan Smith Bloodstock, waited patiently to secure the filly from Beckam Equine, a half-sister to the recent winner. beggar.
At NZ$250,000 ($170,872), the result not only topped last year's most expensive Book 2 batch, but provided a fairy tale result for its new breeders, Paora Packer and his brother of Rugby League fame, Russell, with a mare they picked up for just NZ$1,300 ($888) from Gavelhouse.com.
"I've been in racing for three years. I grew up with (coach) Chris Rauhihi and he introduced me to racing," said Paora, who has her own pre-training and break-in operation at Wine. I went my own way and did what I wanted to do…I got my entrepreneurial spirit going and thought if we could get here (Karaka) and sell one, it's It's a lot easier than what we were doing, so I looked around and went to gavelhouse.com.
"Russell was still playing footy. We bought the mare from Paul Moroney on the site for $1,300 and went third with another partner, but he gave up and we carried on. This is our first time at sales. It's an expensive exercise, but when you get results like this, it's worth it."
The filly is out of pins Mare short taledouble track winner and half-sister to BMW New Zealand Derby (G1) runner-up What is the story and bets placed Based.
His third dam, Group 1 winner Fun On The Run, also produced three-time Group 1 winner Tall Poppy.
Just as they did in Book 1, James and Wellwood were determined to walk away with their pick of the session.
"She was an absolutely remarkable filly. The three of us watched her and a good owner of theirs had come on board to help secure her. We were all smiling and couldn't believe such a beautiful filly to be cataloged today," Wellwood said. "We can't wait to bring this filly home and into the stable, because she really is a star."
Tivaci finished Book 2 as the top bull on average (with three or more lots sold), with four of his offspring selling for an average of NZ$113,000 ($77,235), with commuter Cambridge Stud Almanzor the sire of the second-best batch of the session, finished second by that metric, with four yearlings selling for an average of NZ$108,250 ($73,988).
Indeed, Saturday's session started with a bang after colt Almanzor (lot 968) sold for NZ$230,000 ($157,204) to local Chinese buyers Raptor Thoroughbreds.
Acting on the advice of NZB China regional representative Alex Teng, Jessica Yang and Kent Sun were immediately taken by the consigned colt to Milan Park.
Almanzor's colt presented as lot 968 at the New Zealand Karaka Yearling Sale
"First was the pedigree – he's one by a hot bull in Almanzor and he's a really good guy," Teng said. "He's a standout individual in Book 2. He looks very sharp, he's athletic and ticks all the boxes. He was top of our list and will be taking a break now before we come up with a plan. The father is on fire and had another winner last night with Roznamla winner for Trent Busuttin and Natalie Young."
Local Chinese ownership is an emerging demographic in New Zealand racing and Kent Sun, speaking through Teng as a translator, was keen to highlight the growing sector after Raptor Thoroughbreds secured two yearlings from the book 2, this colt joining a enjoy foal (lot 892) which they bought on March 11.
"Normally we don't see a lot of local Chinese running here, but actually it's not a small group. Mr. Sun has a group of New Zealand-Chinese in a landlord alliance. From this group, members bought more than ten horses from the sales, which is quite significant," Teng said. "It also helps that Almanzor has a very good name in Chinese.
Milan Park's Tony Rider, who celebrated his birthday yesterday, was pleased with the colt's progress up to yesterday's sale date.
"Since the farm shows, he's just stood out and blossomed. Every week he looks better and better," he said. "We thought he should have made somewhere between NZ$150,000 ($102,524) and NZ$180,000 ($123,029), so that was definitely above where we saw him."
Milan Park sold another Almanzor offspring on day two of Book 2. Listed as number 903, the filly was purchased by Wexford Stables for NZ$110,000 ($75,184).
Rider has plenty of time for the Cambridge Stud sire, with another pair from the sire bringing six figures in Book 1 for Rider.
"I think around this time next year they will be in high demand," he said.
Milan Park was second among top sellers on average (with three or more lots sold) for Book 2 with six sales at an average of NZ$84,917 ($58,040) behind only Beckam Equine's three yearlings with an average of NZ$102,333 ($69,944).
"We had a very good sale of Book 1. We had three of the 11 sold," Rider added, with Milan Park selling a pair of Savabeel foals for NZ$575,000 ($393,010) and NZ$260,000 ($177,709) in Book 1.
"I'm one of those guys who believes in the breeding that we do," Rider said. "We're not here to breed commercial stuff just to make money, we're here to hopefully breed a racehorse on the track. Over the past 12 months we've had a good rate success on the track."
The main buyer for Book 2 was Paul Chow's Tartan Meadow Bloodstock, who secured six yearlings for a total outlay of NZ$430,000 ($293,903).