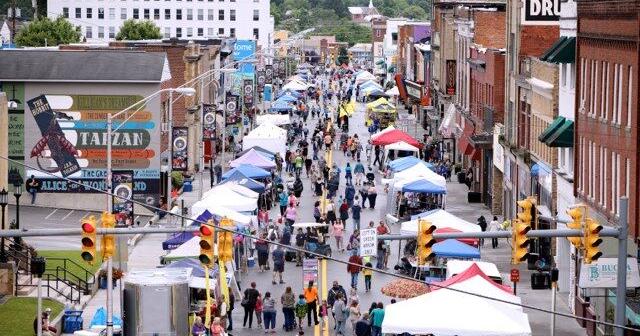 Princeton Street Fair back live this year | New
PRINCETON — After a two-year virtual festival due to the pandemic, the annual Celebrate Princeton Street Fair is back this year.
The event is scheduled for Saturday, June 11 and features an assortment of entertainment and activities in the Mercer Street Grassroots neighborhood of the city.
Organizer Lori McKinney said it was great to move from a virtual event to a live event.
"I'm so grateful that we can come together again and celebrate our community together," she said. "It's an exciting time of fulfillment on Mercer Street; we are excited to show the community all that is new in our neighborhood.
Celebrate Princeton Street Fair will feature special performances by Headspin Circus Troupe, live music, a live art mashup with several local artists, and other demonstrations.
There will be a Ferris wheel, slides, maze, bouncy houses, putt-putt golf and dozens of vendors.
McKinney said merchants in the Grassroots District will hold special activities and sales. Hammer & Stain will feature special outdoor activities, Stages Music School will present student performances at The Fountain Stage, and the day marks the celebration of the Sophisticated Hound Brewing Company's fourth anniversary.
New businesses like Jimmie's Restaurant and Kylie Kakes are eager to serve the public, she said, and Bucha Brewhouse & Bistro will be back to serve for this special day.
In addition to the festival stages, there will be live music inside The Hound all day and outside on the terrace in the evening. Other merchants will host sidewalk sales, live music and more. Organizers encourage photography enthusiasts to get a bird's eye view of downtown from the top of the Ferris wheel.
McKinney said the Town Square stage will be co-hosted by Dreama Denver of the Denver Foundation and actress Julie McCullough, a new Princeton resident known for her role as a nanny on "Growing Pains" and dozens of others. popular TV programs. shows. Headspin Circus Troupe will perform two separate shows of trapeze, aerial silks and lyre right in front of the Renaissance Theatre.
They will also entertain on stilts, provide "hoop jams" and meet and greet the public.
Live musical performances on two stages – Dick Copeland Town Square and The Fountain Stage – include The Judy Chops, Long Point String Band, Lords of Lester and Allen Smith Band, and there will be several acoustic performances on The Fountain Stage with James Hart , Grace Campbell, and many more.
The Princeton Public Library will offer a variety of creative activities inside the library and outside in its parking lot, including a Friends of the Library book sale.
Vendors will sell items and services ranging from hot corn and snow cones to essential oils and massages to fine arts, crafts and face painting.
Downtown businesses will be open and customers are encouraged to explore and patronize them.
Festival sponsors include RiffRaff Arts Collective, Princeton Renaissance Project and Community Connections.
McKinney said the Ferris wheel is free and sponsored by Southern Highlands, the Mercer County Commission and the City of Princeton. The production of the festival is ensured by LLyniuM entertainment.
Admission to the event is free and a variety of food, retail and craft items will be available for purchase. For more information, including a vendor request and guidelines, visit celebrateprinceton.com or call 304-320-8833.
Contact Charles Boothe at [email protected]