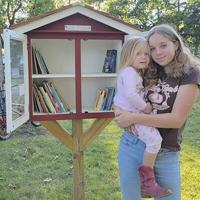 A local mother is improving the world, one book at a time | New
Years ago, when Nicole Farrell's eldest daughter, Jade, was younger and a single mother, money was tight. Farrell recalls attending school book fairs, but — with finances earmarked for more important things — she wasn't always able to buy the books she wanted for her home.
When COVID hit in 2020 and libraries closed — and with it, access to free books — Farrell of North Branch remembered those times when she couldn't afford to get the books she wanted. This prompted her to start Books for Better, an organization designed to ensure that children have the reading material they want.
"I want to make sure all kids have access to their own books, regardless of their ability to pay," Farrell said. "The goal, in simple terms, is to provide books to those who need them. It can be any age.
Farrell will bring Books for Better to Cambridge City Park, June 28 from 10 a.m. to noon, with a reading by author Sandra Talbot. Books for Better will be at Riverside Park in Isanti on July 12 from 10 a.m. to noon.
One of Farrell's reasons for starting Books for Better was to "shed a positive light during a difficult and dark time". As a stay-at-home mom to three-year-old Harper, she knew she had the time to do it and could do it inexpensively without using too much of her own money.
With the help of Jade, now 15, she developed the program. She hosted two book fairs during the pandemic, where she distributed a wide variety of children's books, from cloth books for newborns to books for young adults.
"The first fair was for all new books and the second was a mix of new and lightly used books," she said. "Families were invited via Facebook and word of mouth to come and let their children choose a few books. There were no eligibility requirements – everyone was welcome – and there was no limit to the number of books they could take home.
Even though the pandemic has subsided and access to libraries is now available, "the need is definitely there," she said. "I believe everyone deserves their own books. A child who is abruptly transferred to a foster family may have nothing to take with them. Even something as small as a book that belongs to them can comfort them.
"I've donated books to shelters, programs that help the community with homelessness, local kids, a local charter school, and even the sheriff's department for them to have in their trunk for special circumstances," she added.
Farrell continues his mission over the next few months, hosting book fairs in Chisago and Isanti counties. She hopes to eventually make it to the Twin Cities.
"This summer, you'll find books for the better at local parks in Forest Lake, Wyoming, Stacy, East Bethel, Cambridge and Isanti," Farrell said. "Many volunteers stepped up and also offered crafts and activities. Currently my goal is to serve anywhere in Minnesota, but with the cost of gas and shipping, it's been a lot more local lately.
Farrell never charges a fee for any of the books, which come mostly from donations. She will also buy lightly used books from thrift stores.
"I have a fantastic support system in the community and on my Facebook page that donates books and helps where they can," she said. A recent donation came from children's author Mayuri Amarnath who sent Farrell copies of two of her books.
She also has a fantastic support system at home. In addition to Jade attending and attending the events, Farrell's husband Steve is "extremely supportive of my passion. It supports books all over our house. He even built me ​​a book shed.
Everything Farrell does is entirely voluntary, and although she accepts book donations, she earns nothing from her organization.
"When I started Books for Better, I had never done anything like this before," she said. "I'm so proud of how far the program has come over the past two years. »
Recently, Farrell noticed his three-year-old picking out books for other kids at a library book sale.
"I didn't know my daughter understood the program and what I'm doing," Farrell wrote on Facebook. "Not only does she understand, but she has already started to help on her own.
"If at just three years old we can do good and make a difference, imagine what we can continue to do as we grow older."
Anyone interested in donating books can email Farrell at [email protected] or contact her through the Books For Better, MN Facebook page.