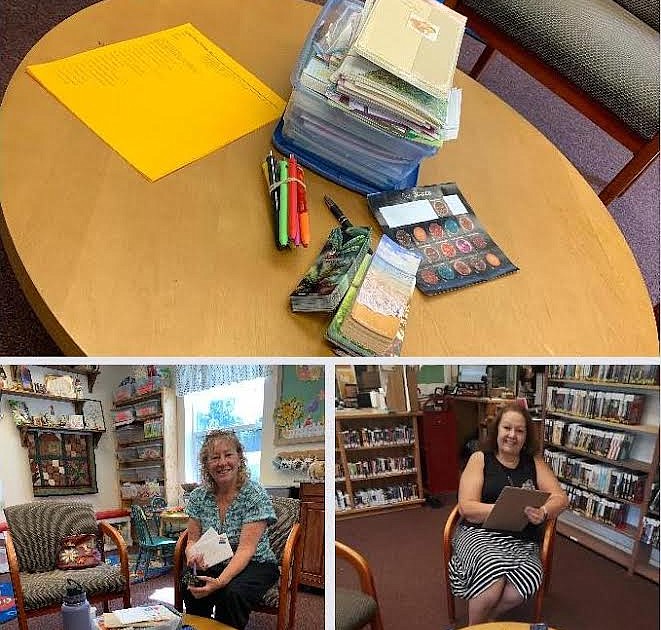 Letter writing still in vogue at the Mineral County Library
"I didn't have time to write a short letter, so I wrote a long one instead." – Mark Twain.
Before Twitter, texting, and social media platforms took over society, it was once thought that the telegraph, telephone, and typewriter all played a role in the unfortunate demise of good letter writing to the world. 'Ancient.
In recent years, letter writing has been replaced by other, faster modes of communication. Technology has developed so quickly that we now expect to be able to talk to people and get a response almost instantly.
The days of sitting at a desk, putting pen on paper and delicately choosing the right words to convey our affections to those we love far away are almost over.
You could say that letter writing has become another lost art form. With modern technology at your fingertips, any love letter, thank you note, or birthday card can be replaced with a miserable text message. "Happy birthday!" insert an emoticon. But what is missing is the intention.
Technology can't help you express the emotion behind the communication, from choosing stationery to hours spent in the card aisle at Walmart. The color of the pen you use, the printed or cursive writing, even opting for an elegant envelope, every step of the process makes it personal and heartfelt.
All of those special details were things that stood out for Mineral County Branch librarian Florence Evans after a trip to see family. While on vacation, she discovered a letter writing group that she wanted to replicate at her home in Superior at the public library.
She explained, "Brent and I recently visited our daughter Brandi and her family in North Pole, Alaska, and she told me about a group that comes together there with that name and concept, So I basically cloned their group. It just seemed like something wonderful, it's so needed right now.
This idea of ​​creating a special time and space to forge communications like this really struck Evans, she shared, "Things move so fast now, emails, texts, Twitter, so much. other ways to have instant communication. A note or letter really adds to the beauty of a day, like someone taking the time to slow down and put real words on paper. A real treasure for the most part.
The new group sponsored by the Mineral County Library is called CESSS The Day. It stands for Cards, Envelopes, Stationery, Stickers and Stamps.
Held Tuesdays at the Superior from 11 a.m. to 2 p.m., patrons are encouraged to sit down, browse through their supplies, and write a card or note to family and friends.
Evans noted, "We had several people who donated cards to our group and stamps for mailing. Hope more people will come and enjoy our space in the library and relax while writing a letter or a note to their friends or relatives.
The library has plenty of paper, cards, and other materials to share, but attendees can also bring their own card stock or decorative items.
"Last week Diane Metzger and I wrote letters and added bookmarks to our out-of-town grandchildren. This week, I plan to send cards as a surprise to my two granddaughters in town. I'm sure they'll be happy to receive their own mail, "Evans exclaimed.
To accompany the new CESSS day group, on Tuesdays, on the same day and at the same time each week, residents are invited to come and enjoy lunch at the library.
Evans said: "I hope there are some who bring lunch to enjoy and write letters as well. What a fun afternoon this could be.
In addition to the CESSS during the day, and the Lunch at the Library on Tuesdays from 11 a.m. to 2 p.m., the historical CAKLS group meets from 2 p.m. to 3 p.m.
This assembly is also known as the crochet and knit lover, "CAKLS". others. The only limit is what you are willing to bring in.
Another new library offering this fall is "Confabs". They meet on Monday at 10 a.m. Each month, a new topic is selected and presented by various guest speakers. Evans said: "The topic for this month is home schooling. Debbie Kelsey spearheads this fun and popular group.
Midweek Wednesday Parents of Mineral County as teachers get together for their fun Goose in Loose Story Time. On Thursdays, the library book group, Les Abeilles is still running. They meet at 2 p.m. in the lobby. Evans added, "We have a monthly genre, and we all read our own book in the genre and share our opinions on our book, like a book report. This month's genre is the first book in a series.
As daytime CESSS and library lunch are gaining more traction each week, Evans explained, "We had 14 in Bees last week and 5 in CAKLS, so established groups are well attended."
In no time, the others will be too. And for general library needs, or to stop by and meet the friendly and helpful staff, their hours are Monday through Thursday 9am to 4pm. On Saturdays, they are open from 9 a.m. to 2 p.m.